Mortal Hunters Convention - April 25-26, 2020
Coronavirus Information:
!!!
We will definitely postpone Mortal Hunters Con to another date. Currently we are working on making sure all booked guests are available at the new convention weekend.
Before this is ensured, we won't make it all official as we want to make sure there won't be many changes for you.
The information we can already give you:
We are working on moving the con to:
As soon as we got responses from all agents we will postpone the con officially.
Already booked hotel rooms at the Hilton Hotel will then be moved to the new dates automatically. The Hilton will send you an email about this with all information then as well though.
Please give us a bit more time to prepare and work on everything. It is important to us that all booked guests can attend the new date.
!!!
Mortal Hunters Con is an unofficial 2-day convention with starguests from the TV-Series "Shadowhunters". 
Spend two exciting days with your stars und let our photographers take great pictures of you and your stars, get autographs and ask your questions at panels while your stars are on stage.

We are happy to offer you this event in Germany. The starguests will spend the whole weekend with you and entertain you with panels on stage. In addition there will be autograph-sessions and photo-shootings and the possibility to attend Meet & Greets with a very limited number of fans with the starguests in which you maybe could be able to worm out secrets from the shootings of the series for example.

Many other great announcements of activities, such as a karaoke party, a costume contest and workshops will follow during the next couple of weeks.
The event is going to be very familial and personal. Make sure to get your ticket before it's too late!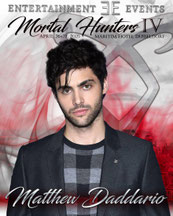 Special Guest:
Matthew Daddario
"Alec Lightwood"
Special Guest:
Dominic Sherwood
"Jace Wayland"
Katherine McNamara
"Clary Fray"
Will Tudor
"Jonathan Morgenstern / Sebastian Verlac"
Luke Baines
"Jonathan Morgenstern"
Master of Ceremonies:
Jade Hassouné
"Meliorn"
______________________Make sure to get your ticket now___________________