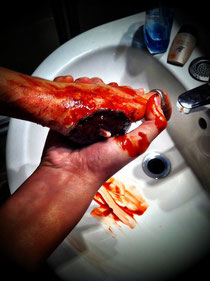 Make-Up Workshop
Ihr braucht noch ein paar Tipps für euer Teen Wolf Outfit? Wir zeigen euch wie man mit Profi-Make-Up und einfachem Haushaltsmaterial Werwolfkratzer, Schnittwunden und blaue Flecken zaubert. Tipps zur Herstellung von genießbarem Kunstblut gibt es natürlich auch. Und wer sich traut, darf auch davon probieren.
Materialkosten: 5€
Teilnehmerzahl: 30
Anmeldung an: craeftiga@gmail.com
Wann/Wo: Samstag: 10:30-11:30/Platon 1
                  Sonntag: 09:00-10:00/Platon 1
__________
Workshop Announcement:
Make-Up Workshop
You need a few tipps for your Teen Wolf outfit? We show you how you can create professional looking werwolf cratches, cuts and bruises with household material. You also get tipps to make eatable fake blood. And those who are not afraid can taste it.
Material costs: 5 Euro
Attendees: 30
Registration to: craeftiga@gmail.com
When/Where: Saturday: 10:30-11:30/Platon 1
                       Sunday: 09:00-10:00/Platon 1